With the rising attention to climate change, green manufacturing has become the latest trend for the fashion and textile industries around the globe. Enterprises, including large-scale international fashion corporations, have started to establish their own timetables to go green and sustainable. According to the "2022 Sustainability Survey for the Hong Kong Fashion and Textile Industry", more than half of the interviewees believe that a large-scale sustainable development transition of the fashion and textile industry will happen in the future. Among them, 26% of the respondents think that it will happen within 5 to 10 years. Tightened requirements on environmental certification and implementation of environmental taxes are the driving forces of sustainable development.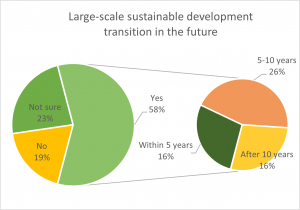 Some SMEs are still struggling with their sustainable development plans. Economic and financial constraints, lack of experts and experience, green manufacturing and green supply chain transition are the challenges faced by SMEs. Moreover, since the Hong Kong fashion industry may focus more on capital instead of sustainability, if the companies do not have enough materials and a green supply chain, they will not have the initiative to embark on a sustainability transition.
Resources are required for the sustainability transition. Besides human resources, companies also have to develop investment plans to adopt new technologies and develop a green manufacturing and supply chain. Funding is one of their opportunities. Funding schemes and support programmes are organised for the fashion and manufacturing industry, which can help SMEs get support and advice from experts. For example, there are the Fashion Incubation Programme (FID) held by Hong Kong Design Centre, the Dedicated Fund on Branding, Upgrading and Domestic Sales (BUD), and the Cleaner Production Partner Programme (CP3) launched by the Environmental Protection Department. In addition, green loans can help SMEs gain access to loan financing services for environmentally sustainable green projects and corporate funding to enhance sustainability performance and achieve their sustainability transition.
In conclusion, with the heightening awareness of sustainability, investors have shown more interest in ESG factors, and consumers have increased their environmental consciousness. More SMEs have started introducing their sustainability transition. Although they may face challenges such as economic and financial constraints, limited resources and technology, implementing sustainability initiatives like green manufacturing transition, and green supply chain, green finance can help SMEs tackle the challenges and move forward to sustainability transition.
References:
https://fhki.s3.ap-east-1.amazonaws.com/assets/news/ESG%20Survey%20Summary%20En.pdf
https://fhki.s3.ap-east-1.amazonaws.com/assets/news/ESG%20survey-website.pdf
https://www.hkpc.org/zh-HK/support-resource/sme-one/funding-scheme/smeone-start-up
https://www.mckinsey.com/industries/retail/our-insights/fashion-on-climate